Products Name: 2017 New Robotic Lawnmower E1800T with WIFI Remote Control
category: 6th Generation Mower E1800
Hits: 4985
Online Contact: +86-576-81608598
Email: sales@exgain-tech.com
Products Detail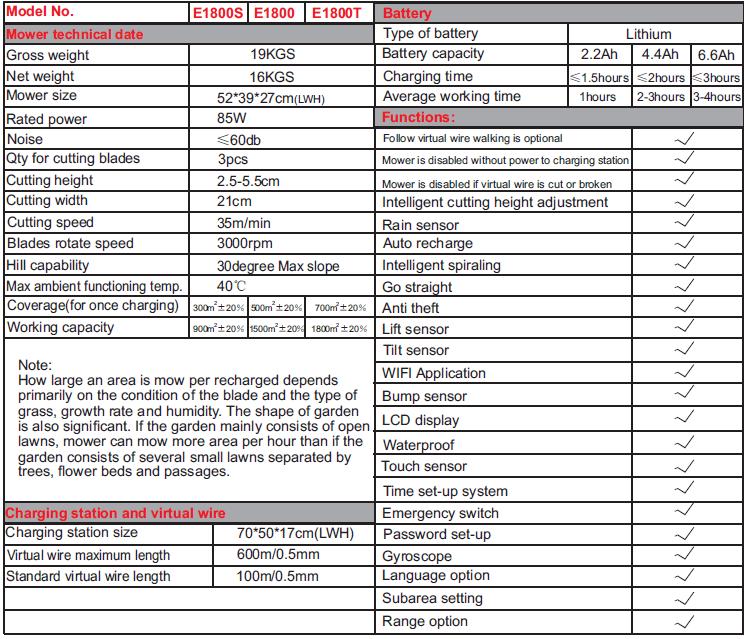 Main Functions:
1.Lift sensor
2.
Bump sensor
3.Rain sensor
4.
WIFI remote control
5.
Cutting height adjust on LCD Display
6.Touch
sensor
7.Pressure sensor
8.
Subarea setting
9.Different languages selection
Some functions introduction:

1.select cutting height on LCD display directly, more intelligent:
2.languages for your option(12):
English,French,German,Danish,Swedish,Finnish,Italian,Norwegian,Spanish,Dutch,Russian,Polish.and we could add more...
3.WIFI app available for IOS and Android mobile phones, more convenient for setting and remote control.
Thanks to the distinctive features, the Exgain lawn mowers are your best partners to create a wonderful garden. All are easy to use and maintain, and built from strong, resistant materials with powerful motors to guarantee nice mowing performances.